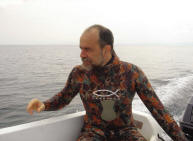 Jak Boeno
Passionate about underwater hunting and free diving, Jak Boeno translates the experience and knowledge he has gained through 40 years of sea, into a new range of innovative products. From the patented Troian camouflage, to the rubber coated weights, from the hand made wooden spearguns to the greatly designed accessories, all products offer a high quality performance.
Ünipren Ltd. Şti.
Located in Istanbul Turkey, Unipren Ltd. manufacture products for underwater hunting, free diving, scuba diving and water sports. The wet suit production is 9.000 suits per year.
Orders of high quantities along with those of the smallest are treated with celerity.